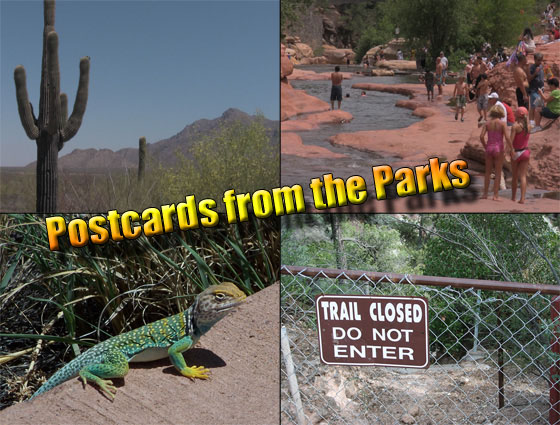 Arizona's state parks and Heritage Fund are in crisis.  In the upcoming documentary, "Postcards from the Parks: Finding a Future for Arizona's Heritage," four friends set out to learn why and to find out what can be done.
They visit all Arizona's state parks and discover natural wonders, great recreation, and fascinating history.  They talk to leading citizens, park managers, volunteers, and park visitors to learn how important the parks are to the fabric of life in Arizona.  They check the numbers and see just how little our parks cost compared to the economic benefits they bring to our state, counties, and towns.  They dig to the heart of the matter to find out why our parks system is eroding, and what needs to be done to make it right.
Our parks can be saved.  In fact, they can thrive and continue to enrich all aspects of Arizona life now and for generations to come — if we make the right decisions.  The film will be released later this month.  The goal is to show the film and discuss its ramifications in communities all across the state.  If you would like the film shown in your community, contact the Arizona Heritage Alliance at 602-528-7500 or by e-mail.