2023 Arizona Heritage Alliance Officers
The Honorable Russ Jones, President, Yuma  – For the past four decades, Russ Jones has been the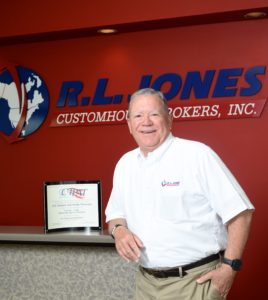 head of R.L. Jones Customs Brokers. During that time, the company has expanded and along with its sister companies dealing in warehousing, freight forwarding, logistics, property management, and insurance services, now has offices throughout California, Arizona, Texas and New Mexico. His activities have not been restricted to his business interests. Additionally, he has been elected twice to the Arizona State House of Representatives, bringing his special expertise on Customs and border issues, along with transportation, agriculture and educational concerns to the Capitol.
After leaving legislative office, he not only continued in his primary professional activities, but, along with his wife, Janet, has been awarded the prestigious Philanthropists of the Year Award for their untiring efforts to promote the arts and educational opportunities for all, contributions to the efforts of the Arizona Community Foundation of Yuma (ACF of Yuma). Additionally, he continues with his community and civic involvement by serving as the Chair of the Yuma County Republican Central Committee and participating as a member of the Arizona State GOP Committee.
In addition to his local philanthropic activities, Mr. Jones is Past Chair for the U.S./Mexico Border Philanthropy Partnership Group, taking an active interest in matching the needs with the funding required to make dreams possible for those on both sides of the border. Also, he is the Immediate Past Chairman of the Border Trade Alliance (BTA), promoting cooperation and understanding between the business communities in the U.S., Mexico and Canada, influencing public policy and private sector initiatives for same.
While sitting on the Board of Directors and Vice Chairman for the Arizona Power Authority, dealing with the water and power needs of Arizona, he still made time to spearhead the successful Yuma County JTED efforts, to establish a JTED to allow children and young adults to get the training and experience they need to make a meaningful contribution to their communities in the future. At present he is a Member at Large on the Line Siting Committee for the Arizona Corporation Commission, providing an adequate opportunity for individuals and groups interested in the conservation and the protection of the environment, local governments, and other public bodies to participate, in a timely fashion, in the decision to locate a specific major power generating facility at a specific site.
Community development has been an ongoing endeavor with his participation in statewide, countywide and local economic development projects. Sitting on the Board of Directors for the Arizona/Mexico Commission (AMC) for more than thirty years, having been appointed by Governor Bruce Babbit and most recently being reappointed by Governor Doug Ducey, he has been an integral part of both state and international policymaking. He has sat on the Advisory Board for the Arizona Department of Commerce, the respective Boards of Directors for the Arizona International Development Authority, Greater Yuma Economic Development Corporation (GYEDC), San Luis Economic Development Commission, the Yuma and San Luis Chambers of Commerce, as well as his participation on issues dealing with the San Luis Ports of Entry and the development of the original and new Industrial Parks that service those ports. Additionally he was a founding member of 1st Bank Yuma, a thriving community bank that has grown to serve the needs of local communities in Yuma, San Luis, and Nogales, Arizona.
As an Army veteran and currently an officer in the Civil Air Patrol, his attention to the welfare of his local community, whether it is a search and rescue mission, or being a founding member of the committee to incorporate the Town of San Luis, Arizona, and San Luis Rotary Club, a proud member of the NRA, or in his District Advisory position with the Boy Scouts of America, his devotion to the community is well known. Although many of his activities have been mentioned here, it only scratches the surface of his vast body of good works that he has done for the United States and portions of Mexico as well.
Jim McPherson – Vice President, Phoenix 
MCPHERSON & ASSOCIATES (October 2010–Present)- Principal – Provide consulting services in the areas of public relations, government relations, marketing communications, web/social media integration, writing/editing, strategic planning, and staff management.
FLINN FOUNDATION (2005-September 2010) – Assistant Vice President, Public Affairs – Directed public affairs effort for leading statewide private foundation. Company representative to local and state business, trade, and civic associations
AT&T WIRELESS (1997-2004) – National Corporate Communications Director. Responsible for corporate communications for the third largest wireless carrier in the U.S. Initiated a full range of strategic communications endeavors that surveyed highest among employees of all AT&T business units.
PACIFICARE HEALTH SYSTEMS (1986-1997) – Public Affairs Director, Arizona Market – Created public affairs office for the company's newest market. Accomplished a full range of public awareness initiatives that successfully raised the profile and leadership position of the company and its executives.
TRIAD AMERICA CORPORATION (1983-1986) – Marketing Manager/Assistant Project Director, Salt Lake City, UT – Established, staffed, and managed well-respected public relations and marketing departments for major real estate development firm.
EDUCATION
Public Administration, Ohio State University, Columbus, OH
Public Administration, Miami University, Oxford, OH
AFFILIATIONS
President, Arizona Preservation Foundation
Vice President, Arizona Heritage Alliance
Secretary, Downtown Voices Coalition
Board Member, The Arizona Partnership for Immunization
Board Member, Sustainable Communities Collaborative
Board Member, Evans Churchill Community Association
Kathleen Roediger – Treasurer, Phoenix  – Kathy came to Phoenix in 1969, moving from Detroit
with her family and her horse.  She worked in the banking industry from 1968 until retiring in July 2018, most recently as a Client Service Consultant/Certified Treasury Professional at Wells Fargo Bank, having an extensive background in bank operations/processing, correspondent banking, account analysis and treasury products with a focus on government and nonprofit business lines.
Kathy enjoys backpacking, hiking, yoga/fitness, wildlife watching and volunteering/service trips, working on political campaigns, reading, and music.  She was a horse owner for 45 years, breeding, showing and racing Quarter horses.  She volunteers with Audubon, Wild At Heart (burrowing owl habitat), and the Sierra Club.
Kathy is currently serving as the Arizona Heritage Alliance representative to Arizona Forward, a business organization focused on sustainability issues, participating on the Natural Resources and Advocacy committee and the Water committee.  She was the Conservation Chair for the Wells Fargo Bank Green Team in Arizona from 2010 – 2018.  She was a member of the original Board of Directors for REP America, Republicans for Environmental Protection (now ConservAmerica) from 1996 – 2000.
Kathy is a lifetime member of the Sierra Club and served on the Grand Canyon Chapter Executive Committee from 1995 – 2002, chairing the Chapter from 1996 – 2000.  She served on the City of Phoenix Environmental Quality Commission from 1995 – 2002 and the City's Surface Transportation Subcommittee from 1994-1995. Kathy also served as a citizen representative on the Arizona Department of Environmental Quality Soils Cleanup Task Force, which established cleanup parameters and levels for contaminated soils in the state of Arizona, from 1996-1998.
She has been a board member of her homeowners' association – sometimes a thankless job – since 2002 as Secretary, Treasurer, and/or President at various times. Now that she has retired she is looking forward to more volunteering! Kathy earned a BA in Management Arts from the University of Phoenix.
Bonnie Bariloa – Secretary, Florence – After working for 14 years in the Business Field as a Manager in the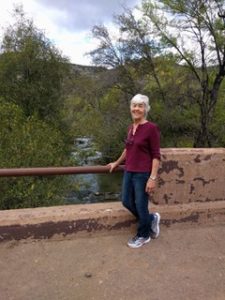 Data Processing Department, Bonnie returned to college at ASU receiving her Bachelor of Science Degree with a major in Urban Planning and Landscape Architecture in 1988.  Her first position was Community Development Director for the Town of Florence. In this position she wrote several grants for streetscape projects. She was instrumental in helping create the design and implementation of the 27-acre Heritage Park which contains 3 ball fields, basketball courts, open space, and a skateboard facility.
In 1990 when the Arizona Heritage Fund was established through a voter initiative, Bonnie began writing grants, utilizing the Heritage Fund to provide partial funding for the rehabilitation of many historic properties in Florence.   While working as Sr. Planner for Pinal County from 1996 – 2004, she continued rehabilitating historic buildings in Florence. She was also the Staff Liaison working with personnel from the National Park Service, Arizona State Parks, BLM, and Arizona Game & Fish in establishing the first Trails Plan for Pinal County.
Bonnie has also worked at the State Historic Preservation Office (SHPO) administering the Federal Grant which is funding for SHPO and as a Planner for the City of Peoria. After retiring in 2004, she continued writing grants and rehabilitating primarily commercial buildings until the Legislature ceased funding the Heritage Fund.   Due to her efforts, many buildings were saved and/or rehabilitated in Florence:   Chapel of the Gila, Old Main at Florence High School, True Value Hardware Store, Harvey/Niemeyer Building, Silver King (Hotel) Marketplace, the Clarke House, and several other buildings.
Throughout the years, she has traveled extensively with her grandchildren who have now visited 49 of the 50 states and several foreign countries.   They visited many, many state and national parks throughout these travels. Bonnie received the Governor's Heritage Preservation Honor Award in 2001, is a member of the National Trust for Rehabilitation as well as on the Board of Directors for The Florence Preservation Foundation and Arizona Heritage Alliance.   She is also a member of the Planning Committee for the Annual Arizona Historic Preservation Conference.