Source: Arizona Game and Fish Department Press Release – January 23, 2019.
Governor Doug Ducey today announced the nomination of James E. Goughnour of Payson, Arizona, as a member of the Arizona Game and Fish Commission.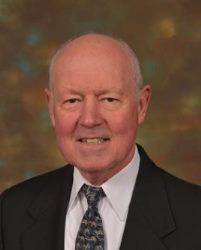 Goughnour, an Arizona resident of 42 years, is an outdoors enthusiast and driving force for wildlife conservation and outdoor recreation in the Payson area. He is the owner of Rim Country Custom Rods, a small business that designs and builds custom fishing rods and repairs rods and rod components. Prior to starting his business, he worked 26 years for General Dynamics Aerospace Systems Group in Scottsdale, where he held a number of management positions, culminating in a position as a project manager for all aspects of the Aerospace Operations Program.

Goughnour is the immediate past president of the Mogollon Sporting Association (MSA), a not-for-profit 501(c)3 volunteer organization that raises funds to benefit wildlife conservation and youth education programs throughout the Mogollon Rim area. He serves as the MSA organizational interface with the Arizona Game and Fish Department (AZGFD) and the Tonto National Forest to receive project requests and coordinate with MSA to provide funding and volunteers.

Goughnour is also active with and has chaired the Payson Special Volunteer Committee, where he led a group of approximately 100 volunteers, business owners, and county and town representatives to develop a plan to attract national-level bass fishing tournaments to Roosevelt Lake and promote Payson by designating it as the "Host Town" for these events.

He serves as chair of the Gila County Roundtable, a group of Gila County anglers working with AZGFD to enhance fishing conditions at Roosevelt Lake. As part of this partnership effort, the Florida Fish and Wildlife Conservation Commission in 2014 donated more than 400,000 Florida-strain bass fry for stocking into Roosevelt Lake.

Goughnour is an active member of the Bass Anglers Sportsman Society, Forest L. Wood, the National Rifle Association, and the Tonto Rim Sports Club. He works with the Payson Parks and Recreation Department and AZGFD in the planning and execution of the annual Payson Wildlife Fair. He is also an active participant in the Kids Fishing Program at Green Valley Lake.

Goughnour earned a Bachelor of Science in Business Administration from the University of Phoenix. His appointment is pending confirmation by the Arizona Senate.