Source:  Tony Davis, Arizona Daily Star – January 17, 2018
When the state bought 1,400 acres near Patagonia 14 years ago, the wetland home of a major endangered fish population was saved from the bulldozer. Beth Woodin was a driving force in creating the Arizona Heritage Fund that supplies money for such purchases.
Woodin died last week at her Sabino Creek home at age 71. She spent at least 40 years fighting to save wildlands like that acreage around Coal Mine Spring, home to the endangered Gila topminnow but until then a likely subdivision site. Woodin, a native New Yorker, lived along Sabino Creek since the 1970s with her husband, William Woodin, an early Arizona-Sonora Desert Museum director.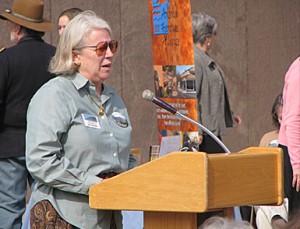 Just before her Jan. 10 death from cancer, Woodin left her nine-year position as board president of the Arizona Heritage Alliance advocacy group. On Saturday, the Arizona Game and Fish Commission gave her an award of excellence, at a Phoenix-area ceremony she had hoped to attend.
"She was one of the most dedicated persons around to doing
wonderful things for wildlife," said Jim DeVos, a state Game and Fish Department assistant director who knew Woodin for 35 years. "She was always looking for that compromise to move conservation forward. She had her fingers in more conservation projects than anyone I know."
Woodin was a state Game and Fish commissioner from 1990 to 1995, sat on the Arizona Nature Conservancy's board in the 1980s and '90s, and was on the Desert Museum's board of trustees multiple times. In the 1980s, she was instrumental in persuading the Legislature to create a checkoff program allowing residents to set aside some of their state income taxes for programs benefiting nongame wildlife. The checkoff raised nearly $860,000 in the five fiscal years that ended June 30, 2017, state records show.
Woodin and other fund backers fought at least 30 legislative efforts to divert some of that money, succeeding until the 2007-'08 economist bust. After that, the Legislature swept $10 million annually, which had gone for parks, into the general fund. She and her allies unsuccessfully tried to push through legislation to restore the parks fund.
At the end of her life, Woodin was plotting another run at restoring the Heritage Fund for parks, said Janice Miano, the heritage alliance's board president. "She never gave up. She always had a plan."
Woodin is survived by her husband; four stepsons; a sister, Jill Burkett, of Northern California; and eight grandchildren. Services will likely be held in the spring.