Source:  Arizona Game and Fish Department Alert, October 14, 2016
The producers of "Arizona Wildlife Views," the Arizona Game and Fish Department's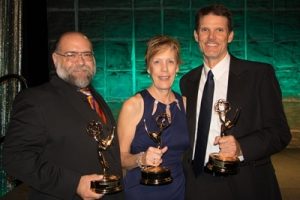 television show, took home seven regional Emmy Awards in four different categories
from the Rocky Mountain Southwest Chapter of the National Academy of Television Arts and Sciences (NATAS) on Oct. 8. The awards ceremony took place at the Talking Stick Resort in Scottsdale. The award recipients and categories were:
Program Feature/Segment/Special
Environment – Program Special
Director (non-live)
Video journalist
More than 900 entries were submitted for this year's Rocky Mountain Southwest Chapter Emmy Awards by television and video production professionals in Arizona, Utah, New Mexico, Wyoming and El Centro, Calif. For more information, visit: http://rockymountainemmy.org.  
"Arizona Wildlife Views" is a half-hour original series produced by the Information Branch of the Arizona Game and Fish Department. The show airs on local PBS stations, city cable channels across the state and YouTube. The current 13-week season is airing at 4:30 p.m. on Sundays on Arizona PBS Channel 8.  More information can about Arizona Wildlife Views Television can be found online.