Source:  Havasunews.com – August 1, 2016. 
Arizona State Parks announced formalized plans for Contact Point State Park on Monday, which is expected to be the first piece of the most significant development since the city's founding.
The 198-acre park will feature a marina with a launch ramp, docks, dry boat storage, along with a restaurant with boat docking, a beach and ramadas. The park is anticipated to open in 2020. It will further provide the basis for the city's Havasu 280 project and will lay adjacent to 250 acres of proposed residential housing.
"This is probably the most significant development to take place in Lake Havasu City possibly ever," City Manager Charlie Cassens said. "Aside from Robert McCulloch's original development of the city, this would be the most significant overall master plan."
Contact Point State Park will be developed through a public-private partnership with Komick Enterprises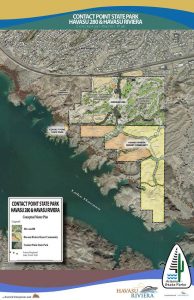 of California, which also owns the adjacent property intended for residential use. According to a press release, Komick Enterprises was selected in July through the State of Arizona's competitive bidding process to undertake the project. The developer is working in partnership with the locally based real estate firm Desert Land Group on the project.
"Contact Point is kind of the catalyst to the whole project. Now the city and private development will all be moving forward together," said Mychal Gorden of Desert Land Group. "It's really exciting and will be the catalyst to kick off a whole new amenity package for visitors and set up Havasu's future on the south side.
According to a Desert Land Group press release, projects are scheduled to be developed in phases over the next 10 years, and the city will break ground later this summer on roadway improvements connecting State Route 95 to the projects. The city previously approved $450,000 for road improvements related to the development this fiscal year.
Executive Director of Arizona State Parks, Sue Black said the park will be "a game changer" for the area. She said the park's additional boat slips are expected to ease boating related traffic congestion and extra amenities surrounding 10,000 feet of shoreline will make it a destination spot.
"It's great to be working with Lake Havasu City, Arizona State Representative Sonny Borrelli and Jim Komick," Black said. "Together, the vision of providing greater access and opportunity for the public to enjoy the beautiful environment at Contact Point State Park has become a reality."
Gov. Doug Ducey also commented on the future Contact Point State Park, which is set to become the Arizona's 33rd state park.
"Arizona's state parks are known for their beauty and accessibility," Gov. Doug Ducey said. "Contact Point State Park is another impressive piece of our state's beautiful landscape that will be open for Arizonans and visitors to enjoy. It will provide even more amenities to Lake Havasu, driving more people to the region and creating economic prosperity. I'm excited this project is moving forward."