Source:  KJZZ Press Release by Tom Macedon, April 12, 2018
A bill currently working its way through the Arizona Legislature could impact how archaeological evaluations are conducted on state lands and it may conflict with state and federal laws already on the books. House Bill 2498 passed on a party-line vote by the Arizona Senate earlier this week and is now back in the House for reconciliation. Currently, the Arizona Antiquities Act ensures archaeological work is conducted by degreed professionals who are issued a permit by Arizona.  If signed into law, the bill would significantly reduce the qualifications necessary to conduct archaeological studies aimed at preserving history on state lands.
Daniel Garcia, spokesperson for the Arizona Archaeological Council, a nonprofit organization of cultural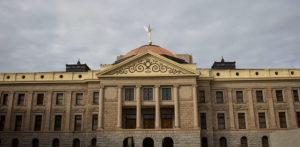 heritage professionals, said the organization opposes the legislation.  "Using volunteers and para professionals to do the work of professional archaeologists has the potential to wind up destroying archaeological sites in Arizona, inadvertently more than likely," said Garcia. "Although, since ranchers who are doing these improvements can become certified para-archaeologists themselves, it brings up a conflict of interest in how they proceed with improvements on their leased lands."
When it comes to making minor enhancements to state lands they lease, Garcia said he understands ranchers' complaints about the current law in place. However, the language in this bill uses undefined terms. "Because the term 'range land improvement' is not defined, we don't really know what it includes. Most of those terms are defined in law somewhere, but not range land improvement. I searched high and low for it," he said. Garcia said unqualified personnel run the risk of violating Arizona cultural resource laws and federal law such as the National Historic Preservation Act and the Archaeological Resources Protection Act.
By contrast, lobbyist Patrick Bray, executive vice president for the Arizona Cattle Growers' Association, whose organization supports HB 2498, said the government red tape for permitting is at an all-time high. "For the past four years, we've been caught in a bureaucratic nightmare that has stalled projects that has caused us to lose federal partners and funding and if we don't figure out how to get it back on track, it's a serious threat that we will lose federal dollars and other funding partners to get critical projects done, not only for the ranches but that benefit the landscape and wildlife as well," Bray said.
Bray said he doesn't understand why a certified archaeologist must be involved in every step of the process when others who attend a cultural resources class offered by the Natural Resources Conservation Service can be trained to do a lot of the preliminary work. "And so his report would go to a professional archaeologist that held the license. That individual would check to make sure that person did his job," said Bray. "It's kind of like the equivalent of if you go into a doctor's office the nurse sees you first, does the vitals and then that information is passed up to the doctor."
But Arizona lawmakers like Sen. Jamescita Peshlakai, who voted against the legislation, isn't buying the analogy. "This is almost like having somebody watch 'Grey's Anatomy' on TV and then going in to do brain surgery," said Peshlakai. Peshlakai, who is Navajo, thinks it is insensitive that the bill was drafted without participation from Native Americans. "One of the things I mentioned in the Senate is that for Native Americans who live here, our history is not part of civics. It's not part of textbooks," said Peshlakai. "We have our own challenges trying to give our children pride in who they are and teach them about their roots. We know a lot about ourselves now, because of archaeologists. "
Peshlakai and others are convinced the bill will face legal challenges if the reconciled version passes again in the House and is signed by Gov. Doug Ducey.