If you hike, boat, ride, hunt, fish, watch wildlife, visit a park, or tour historic sites, then Arizona's Heritage Fund affects your life! Formed in 1992, the Arizona Heritage Alliance is a 501(c)(3) non-profit organization that is guided by a Board of Directors drawn from a broad base of outdoor sports, environmental conservation, and historic preservation organizations that helped pass the 1990 statewide voter initiative creating the Heritage Fund.
Our mission is to preserve and enhance Arizona's historic, cultural and natural heritage.  We accomplish our mission by actively:
Protecting the integrity and voter intent of the Game and Fish Heritage Funds.
Monitoring state legislative and agency activity.
Pursuing sustainable and dedicated funding sources for Arizona's historic, cultural and natural initiatives, programs and activities.
Educating people of Arizona about the benefits of Arizona's wildlife, open space, parks and historic and cultural resources.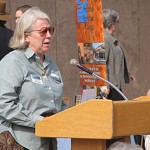 Numerous state legislative attempts have been made to redirect the flow of Heritage Funds.  Our supporters, through hundreds of phone calls, e-mails, letters, and one-on-one meetings, have successfully maintained the integrity of the Heritage Fund.  But we must always be vigilant!
Visit each page of our website to learn more about the Heritage Fund, who we are, and what you can do to help protect Arizona's heritage today and tomorrow.
Download our fact sheet and please pass it along to others who may also want to learn more about the history of the Heritage Funds and the positive impact it has had across Arizona – 2017 FINAL AHA Fact Sheet