The Arizona State Parks & Trails Grant team will be holding a series of Heritage Fund Grant workshops over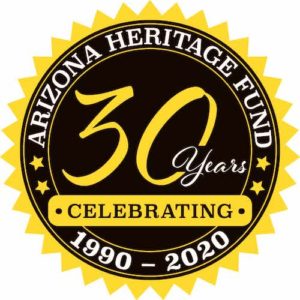 the next few months. Grant staff will discuss opportunities available through the Heritage Fund, as well as eligibility, available funding, and important program policies. Staff will also discuss the application and approval process, provide tips for submitting successful applications, and answer questions.
Recordings of past workshops as well as additional information about the Heritage Fund Grant and how to apply will be available on the Arizona State Parks & Trails website under "Grants and Information."  Click here to access the page directly.
The next workshop will be held Thursday, August 26, 2021 from 9 AM to 11 AM at which time State Parks will discuss all of our available funding opportunities, including the Recreational Trails Program, State Off-Highway Vehicle Program, Land and Water Conservation Fund, and the Heritage Fund. Below is the information for the August 26 workshiop. Please email grantstaff@azstateparks.gov to RSVP or if you have any questions regarding any of the grants.
Thursday, August 26, 2021 – 9 a.m. – 11 a.m.
Join by video system:
https://meet.google.com/dib-wxfv-nau
Join by phone:
+1 478-974-9161
PIN: 336 508 423#