2020 Arizona Heritage Alliance Officers
Janice Miano – President, Phoenix  is a former New Englander transplanted to the southwest desert now for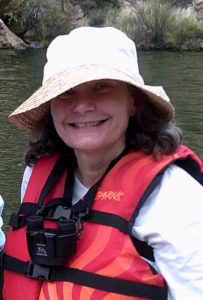 over 20 years.   "When I received my first pair of binoculars at seven years old, I became a junior Audubon member and have been a wildlife watcher ever since." says Miano. She has been a volunteer/activist in environmental issues for over 35 years. From 1991-1995, she worked as the Grassroots Coordinator for National Audubon's International and Population Programs in Washington DC. She was chosen to represent the members of National Audubon at the International Union for Conservation of Nature (IUCN) Conference in Perth, Australia where she testified to the importance of the Global Forest Protocol. Miano is a graduate of National Audubon's Leadership Training and worked closely with Vermont's Senator Pat Leahy and the late Senator James Jeffords and their staff on many critical issues including foreign assistance and population issues; old growth forest destruction and drilling in the Arctic National Wildlife Refuge.
After moving to Arizona, she continued to be active with environmental issues. She is Past-President of the Arizona Audubon Council and worked as Volunteer Coordinator for 5 years at the Nina Mason Pulliam Rio Salado Audubon Center in central Phoenix. Miano was invited to join the Board of the Arizona Heritage Alliance in 1999. In 2004, she became the Alliance's Director of Administration. After retiring in 2015, she again joined the Board of the Arizona Heritage Alliance becoming the Advocacy Committee Chairman. Her Additional Honors and Awards are:
2014 President's Award, Arizona Parks & Recreation Association
2013 Arizona Forward Environmental Excellence Award of Merit for Environmental Stewardship (SRP Award) Central Arizona
2010 Audubon Arizona's Chairman's Award
1994 The Roy Pilcher Environmental Achievement Award, Rutland County Audubon Society
1992 Vermont Women Making A Difference, Castleton State College
Jim McPherson – Vice President, Phoenix 
MCPHERSON & ASSOCIATES (October 2010–Present)- Principal – Provide consulting services in the areas of public relations, government relations, marketing communications, web/social media integration, writing/editing, strategic planning, and staff management.
FLINN FOUNDATION (2005-September 2010) – Assistant Vice President, Public Affairs – Directed public affairs effort for leading statewide private foundation. Company representative to local and state business, trade, and civic associations
AT&T WIRELESS (1997-2004) – National Corporate Communications Director. Responsible for corporate communications for the third largest wireless carrier in the U.S. Initiated a full range of strategic communications endeavors that surveyed highest among employees of all AT&T business units.
PACIFICARE HEALTH SYSTEMS (1986-1997) – Public Affairs Director, Arizona Market – Created public affairs office for the company's newest market. Accomplished a full range of public awareness initiatives that successfully raised the profile and leadership position of the company and its executives.
TRIAD AMERICA CORPORATION (1983-1986) – Marketing Manager/Assistant Project Director, Salt Lake City, UT – Established, staffed, and managed well-respected public relations and marketing departments for major real estate development firm.
EDUCATION
Public Administration, Ohio State University, Columbus, OH
Public Administration, Miami University, Oxford, OH
AFFILIATIONS
President, Arizona Preservation Foundation
Vice President, Arizona Heritage Alliance
Secretary, Downtown Voices Coalition
Board Member, The Arizona Partnership for Immunization
Board Member, Sustainable Communities Collaborative
Board Member, Evans Churchill Community Association
Kathleen Roediger – Treasurer, Phoenix  – Kathy came to Phoenix in 1969, moving from Detroit with her family and her horse.  She worked in the banking industry from 1968 until retiring in July 2018, most recently as a Client Service Consultant/Certified Treasury Professional at Wells Fargo Bank, having an extensive background in bank operations/processing, correspondent banking, account analysis and treasury products with a focus on government and nonprofit business lines.
Kathy enjoys backpacking, hiking, yoga/fitness, wildlife watching and volunteering/service trips, working on political campaigns, reading, and music.  She was a horse owner for 45 years, breeding, showing and racing Quarter horses.  She volunteers with Audubon, Wild At Heart (burrowing owl habitat), and the Sierra Club.
Kathy is currently serving as the Arizona Heritage Alliance representative to Arizona Forward, a business organization focused on sustainability issues, participating on the Natural Resources and Advocacy committee and the Water committee.  She was the Conservation Chair for the Wells Fargo Bank Green Team in Arizona from 2010 – 2018.  She was a member of the original Board of Directors for REP America, Republicans for Environmental Protection (now ConservAmerica) from 1996 – 2000.
Kathy is a lifetime member of the Sierra Club and served on the Grand Canyon Chapter Executive Committee from 1995 – 2002, chairing the Chapter from 1996 – 2000.  She served on the City of Phoenix Environmental Quality Commission from 1995 – 2002 and the City's Surface Transportation Subcommittee from 1994-1995. Kathy also served as a citizen representative on the Arizona Department of Environmental Quality Soils Cleanup Task Force, which established cleanup parameters and levels for contaminated soils in the state of Arizona, from 1996-1998.
She has been a board member of her homeowners' association – sometimes a thankless job – since 2002 as Secretary, Treasurer, and/or President at various times. Now that she has retired she is looking forward to more volunteering! Kathy earned a BA in Management Arts from the University of Phoenix.
Bonnie Bariloa – Secretary, Florence – After working for 14 years in the Business Field as a Manager in the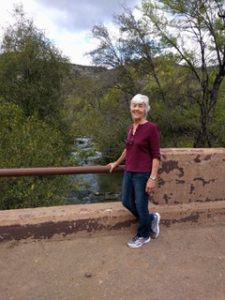 Data Processing Department, Bonnie returned to college at ASU receiving her Bachelor of Science Degree with a major in Urban Planning and Landscape Architecture in 1988.  Her first position was Community Development Director for the Town of Florence. In this position she wrote several grants for streetscape projects. She was instrumental in helping create the design and implementation of the 27-acre Heritage Park which contains 3 ball fields, basketball courts, open space, and a skateboard facility.
In 1990 when the Arizona Heritage Fund was established through a voter initiative, Bonnie began writing grants, utilizing the Heritage Fund to provide partial funding for the rehabilitation of many historic properties in Florence.   While working as Sr. Planner for Pinal County from 1996 – 2004, she continued rehabilitating historic buildings in Florence. She was also the Staff Liaison working with personnel from the National Park Service, Arizona State Parks, BLM, and Arizona Game & Fish in establishing the first Trails Plan for Pinal County.
Bonnie has also worked at the State Historic Preservation Office (SHPO) administering the Federal Grant which is funding for SHPO and as a Planner for the City of Peoria. After retiring in 2004, she continued writing grants and rehabilitating primarily commercial buildings until the Legislature ceased funding the Heritage Fund.   Due to her efforts, many buildings were saved and/or rehabilitated in Florence:   Chapel of the Gila, Old Main at Florence High School, True Value Hardware Store, Harvey/Niemeyer Building, Silver King (Hotel) Marketplace, the Clarke House, and several other buildings.
Throughout the years, she has traveled extensively with her grandchildren who have now visited 49 of the 50 states and several foreign countries.   They visited many, many state and national parks throughout these travels. Bonnie received the Governor's Heritage Preservation Honor Award in 2001, is a member of the National Trust for Rehabilitation as well as on the Board of Directors for The Florence Preservation Foundation and Arizona Heritage Alliance.   She is also a member of the Planning Committee for the Annual Arizona Historic Preservation Conference.