Formed in 1992, the Arizona Heritage Alliance is a bi-partisan, non-profit 501 c 3 organization that is funded solely with private donations, grants and memberships.  The Alliance's mission is to protect, preserve and enhance Arizona's historic, cultural and natural heritage. Our goals include:
Protecting the integrity and voter intent of the Game and Fish Heritage Fund.
Monitoring state legislative and agency activity.
Pursuing sustainable and dedicated funding sources for Arizona's historic, cultural and natural initiatives, programs and activities.
Educating people of Arizona about the benefits of Arizona's wildlife, open space, parks and historic and cultural resources.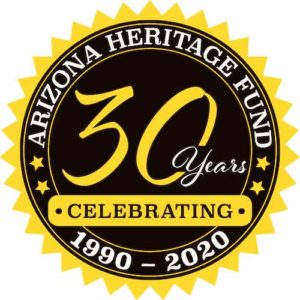 Each year we join other conservationists and environmentalists from across the State and actively participate in Environmental Day at the Capitol. During the year we attend statewide conferences and forums speaking on behalf of Arizona's historic, cultural and natural assets.
On June 30, 2021 Arizona Governor Doug Ducey signed the state budget for Fiscal Year 2022,  including $5 million to fund the Arizona State Parks Heritage Fund. Through a matching grant process to be developed by the Arizona State Parks Board in consultation with staff of Arizona State Parks & Trails and the State Historic Preservation Office, the monies in the State Parks Heritage Fund will be allocated as follows:
50% on local, regional, and state parks for outdoor recreation and open space development, restoration, or renovation,
30% on local, regional, and state historic preservation projects,
10% on local, regional, and state non-motorized trails, and
10% on outdoor and environmental education
At the Alliance's 2018 Annual Meeting, Andy Gorman, one of the original designers of the Arizona Heritage Fund was the organization's guest speaker.  Mr. Gorman shared how a bi-partisan coalition came together to draft the bill, gather the signatures for the citizen's initiative and help educate Arizona citizens about the value of the Heritage Fund thus getting it passed by 60% to 40%.  Listen to Mr. Gorman's empowering speech as presented at the 2018 Arizona Heritage Alliance's Annual meeting.
To learn more about the history of the Arizona Heritage Fund, the positive impact it has had across Arizona over the last 25 years and the current Arizona Game and Fish Heritage Grant programs, please download our fact sheet (and feel free to pass one it one to your friends and colleagues)
Officers

The Honorable Russ Jones, President, Phoenix (2022)
Jim McPherson, Vice President, Phoenix (2024)
Bonnie Bariola, Secretary, Florence (2023)
Kathleen Roediger, Treasurer, Phoenix (2023)
Board Members
Matthew Aguilar, Phoenix (2022)
Natalya Brown, Queen Creek (2023)
The Honorable Sam Campana, Scottsdale (2023)
The Honorable Steve Farley, Tucson (2023)
Pam Jones, Casa Grande (2024)
Sreekar Krishna, Chandler (2022)
Bryan Martyn, Gilbert (2023)
Bill Meek, Phoenix (2023)
Janice Miano, Phoenix (2024)
The Honorable William (Bill) Mundell, Paradise Valley (2023)
William Thornton, Tucson (2023)
Cheyenne Walsh, Phoenix (2023)
Dale Wiebusch, Phoenix (2023)
Woody Wilson, Tempe (2024)
Board of Directors' Advisory Committee
Barbra Barnes, Phoenix
Margaret Bohannan, Scottsdale/Flagstaff
Peter Culp, Sedona
Don Farmer, Scottsdale
Jim Holway, Phoenix
William H. McLean, Gold Canyon
Kent A. Taylor, Casa Grande
Bob White, Mesa
Staff
Private Sector Supporters
Coppersmith Brockelman PLC ~ Culp & Kelly LLP ~ Dave Bang Associates, Inc.  ~ L. L. Consulting ~ ~Phoenix Mountains Preservation Council ~ Pinetop-Lakeside TRACKS   ~ Skinner & Company LLC ~ Strategies 360 ~ Summit Hut ~ Will Bruder Architects
Public Sector Partners
City of Apache Junction ~ City of Avondale ~ City of Benson ~ City of Bisbee ~ City of Bullhead City ~ City of Casa Grande ~ City of Douglas ~ City of Flagstaff ~ City of Glendale ~ City of Goodyear ~ City of Kingman ~ City of Lake Havasu ~ City of Page ~ City of Peoria ~ City of Phoenix ~ City of Scottsdale ~ City of Sedona ~ City of Show Low ~ City of Sierra Vista Parks & Recreation ~ City of Somerton ~ City of Tucson Parks & Recreation ~ City of Wilcox ~ City of Williams ~ City of Winslow ~ City of Yuma Parks & Recreation ~ Cochise County ~ Coconino County ~ Coconino County Parks & Recreation ~ Hualapai Tribe ~ La Paz County ~ Maricopa County Parks & Recreation ~ Pima County ~ Town of Buckeye ~ Town of Camp Verde Parks & Recreation ~ Town of Fountain Hills ~ Town of Gila Bend ~ Town of Gilbert ~ Town of Huachuca City ~ Town of Jerome ~ Town of Mammoth ~ Town of Marana ~ Town of Oro Valley ~ Town of Payson ~ Town of Prescott Valley ~ Town of Quartzsite ~ Town of Queen Creek ~ Town of Sahuarita ~ Town of Snowflake ~ Town of Springerville ~ Town of Superior ~ Town of Wellton ~ Town of Wickenburg ~ Yavapai County ~ Yavapai-Prescott Indian Tribe ~ White Mountain Apache Tribe
State and Regional Partners
Alliance of Arizona Nonprofits ~ Archaeology Southwest ~ Arizona Audubon Council ~ Arizona Commission of the Arts ~ Arizona Forward ~Arizona Game & Fish ~ Arizona Game & Fish Heritage Fund Public Advisory Committee ~Arizona Humanities Council ~ Arizona League of Conservation Voters ~ Arizona Native Plant Society ~ Arizona Open Land Trust ~ Arizona Parks & Recreation Association ~ Arizona Preservation Foundation ~ Arizona Riparian Council Arizona State Parks & Trails ~ Arizona State Parks Foundation ~ Arizona Trail Association ~ Arizona Wilderness Coalition ~ Arizona Wildlife Federation  ~ Arizona-Sonora Desert Museum ~ Audubon Arizona ~ Center for Desert Archaeology ~ Environmental Fund for Arizona ~ Fort Apache Heritage Foundation ~ League of Arizona Cities and Towns  ~ Tucson Historic Preservation Foundation ~  Wildlife Conservation Council ~ Wild at Heart Raptors
Local Partners
Arizona Antelope Foundation ~ Audubon Society, Northern Arizona ~ Audubon Society, Prescott ~ Audubon Society, White Mountain ~ Audubon Society, Yuma ~ Casa Malpais Archaeological Site ~ County Line Riders of Catalina, Inc. ~ Cultural Exchange Council of Tucson ~ Deer Valley Rock Art Center ~ Desert Awareness Committee of Carefree/Cave Creek ~ Cave Creek Museum ~ Desert Foothills Land Trust ~ Florence Preservation Foundation ~Friends of Catalina State Park ~ Hopi Foundation ~ International Sonoran Desert Alliance ~ Jerome Historical Society ~ Mogollon Sporting Association ~ Mohave Sportsman Club ~ Neighborhood Coalition of Greater Phoenix ~ Old Pueblo Archaeology Center ~ Open Space Alliance of Central Yavapai ~ Phoenix Mountains Preservation Council ~ Pima Trails Association ~ Prescott Audubon Society ~ Save Our Sonoran, Inc. ~ Sharlot Hall Historical Society ~ Snowflake Heritage Foundation ~ Snowflake Tourism, Inc. ~ Snowflake/Taylor Chamber of Commerce ~ Sonoran Desert Mountain Bicyclists, Tucson ~ The Center for Biological Diversity ~ The Herberger Theater ~ Tubac Chamber of Commerce ~ White Mountain Audubon Society ~ White Tanks Concerned Citizens, Inc. ~ Winslow Historic Preservation Commission ~ Yavapai Trails Association ~ Yuma Valley Rod & Gun Club
National Partners
National Trust for Historic Preservation ~ Nature Conservancy ~ Preservation Action ~ Sierra Club, Grand Canyon Chapter