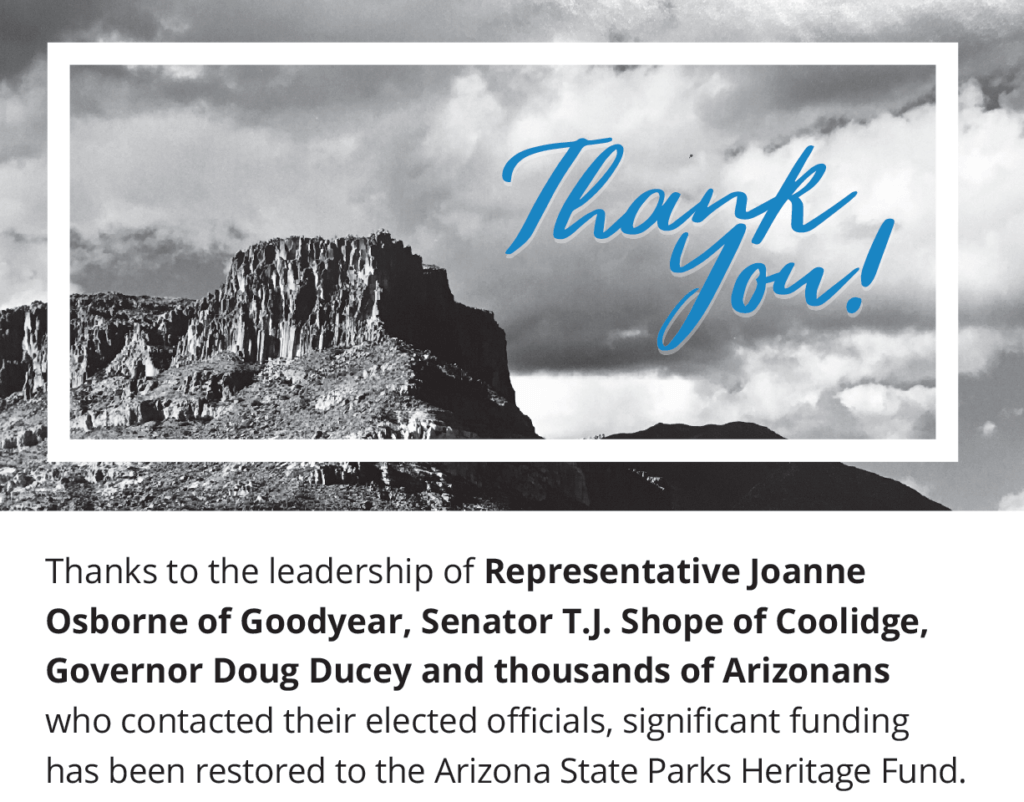 On June 30, 2021 Arizona Governor Doug Ducey signed the state budget for Fiscal Year 2022 , including $5 million to fund the Arizona State Parks Heritage Fund.  
The State Parks Heritage Fund was restored in the 2019 legislative session via Senate Bill 1241, sponsored by then Senator Kate Brophy McGee of Phoenix, but without dedicated funding until 2029 when Arizona Lottery funds would be utilized. This session, Senator T.J. Shope of Coolidge and Representative Joanne Osborne of Goodyear introduced bills, Senate Bill 1384 and House Bill 2127respectively, that gained strong bipartisan support in both chambers. Through the budget negotiation process, the final outcome was $5 million. 
 Through a matching grant process to be developed by the Arizona State Parks Board in consultation with staff of Arizona State Parks & Trails and the State Historic Preservation Office, the monies in the State Parks Heritage Fund will be allocated as follows: 
50% on local, regional, and state parks for outdoor recreation and open space development, restoration, or renovation, 

30% on local, regional, and state historic preservation projects, 

10% on local, regional, and state non-motorized trails, and 

10% on outdoor and environmental education 
LEADERS RESPOND 
Representative Joanne Osborne, who also sponsored a bill in 2019 to support the State Parks Heritage Fund, noted, "My family came to Arizona in the late 1800's. Our state's history can be found in so many places and needs to be preserved for future generations. Arizona is a unique and special place from its glorious lands to incredible places. Let's keep the West alive and our Arizona Way. It was an honor to carry the bill to advocate for funding for the State Parks Heritage Fund." 
According to Senator T.J. Shope, "After 11 years, our state's executive and legislative branches finally came together to fund the State Parks Heritage Fund to maintain and upgrade the growing number of parks, trails, and historic preservation projects that have languished or are newly-proposed in every municipality, county, and tribal area in our state. I'm excited to see what projects start coming out of the ground to enhance the communities in which they're located." 
Russ Jones, former state representative from Yuma and current board president of the Arizona Heritage Alliance, a long-time advocacy organization for both the Arizona State Parks Heritage Fund and Arizona Game and Fish Heritage Fund, noted that, "Communities may have the opportunity to double their impact by using State Parks Heritage Fund grant dollars to draw down a match from the National Park Service's Land and Water Conservation Fund (LWCF)." The LWCF is one of the nation's most important conservation programs, responsible for protecting parks, wildlife refuges, and recreation areas at the federal, state, and local levels. 
Janice Miano, past president and former executive director of the Alliance, noted, "The Arizona Heritage Alliance never gave up advocating for the restoration of the State Parks Heritage Fund. We just kept at it year-after-year to honor the legacy of long-serving board members who passed away during the funding hiatus – Brian Pinney, Beth Woodin, and Tom Woods – and to benefit future generations of Arizona residents and visitors." 
ARIZONANS SUPPORT OUR NATURAL AND CULTURAL RESOURCES 
The importance of Arizona's local, regional, and state parks, trails, and open spaces became more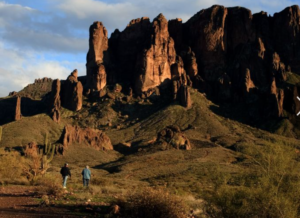 evident as elected officials, businesses, and residents worked to overcome the social and economic hardships caused by the COVID-19 pandemic. Public parks and open spaces provided Arizonans the space for socially distanced recreation and respite during these challenging times. In a recent study conducted by the National Parks and Recreation Association, three in five U.S. residents – more than 190 million people – visited a park, trail, public open space, or other recreation facility at least once during the first three months of the pandemic (mid-March through mid-June 2020). 
A 2020 survey by Gallup and the Center for the Future of Arizona (CFA) finds widespread agreement among Arizonans on a broad range of policy objectives for the next decade, including the environment. Arizonans overwhelmingly appreciate the state's natural beauty, with 91% rating it as "excellent" or "good." A similarly high proportion (92%) say it is important for the state to "preserve and protect its rivers, natural areas, and wildlife," one of the highest levels of consensus seen in the Gallup Arizona survey. 
According to Samantha Coffmann, executive director of the Arizona Parks and Recreation Association, "The work of the Arizona Heritage Alliance has been significant for our state's parks, trails, open space, and cultural sites. Protecting funding for grants made available through the Heritage Fund is vital to Arizona's quality of life and the overall economy. Monies received have positively impacted our state over the last 27 years. The Arizona Parks and Recreation Association and our members greatly appreciate the years-long effort the Alliance board has put into advocating for permanent authorization of funding for this key program." 
ABOUT THE ARIZONA HERITAGE ALLIANCE 
If you hike, boat, ride, hunt, fish, watch wildlife, visit a park, or tour historic sites, then Arizona's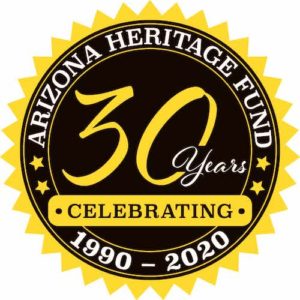 Heritage Fund affects your life. The Arizona Heritage Alliance is a 501(c)(3) non-profit organization created in 1992 to protect Arizona's Heritage Fund and its objectives. The Alliance is guided by a Board of Directors drawn from a broad base of outdoor sports, environmental conservation, and historic preservation groups that helped pass the 1990 statewide voter initiative creating the Heritage Fund. 
The Alliance's mission is to preserve and enhance Arizona's historic, cultural, and natural heritage. It accomplishes its mission by actively: 
Protecting the integrity and voter intent of the Arizona Game and Fish Heritage Fund and working to restore funding for the Arizona State Parks Heritage Fund, 

Monitoring state legislative and agency activity, 

Pursuing sustainable and dedicated funding sources for Arizona's historic, cultural and natural initiatives, programs, and activities, and 

Educating people of Arizona about the benefits of Arizona's wildlife, open space, parks, and historic and cultural resources