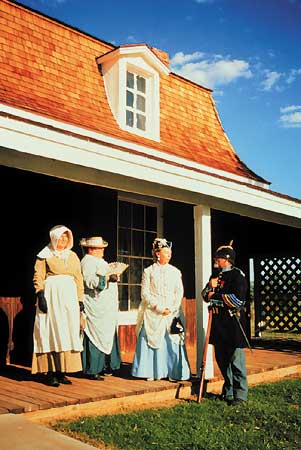 [Source: Dan Engler, Editor, Verde News] — Talk of government budget cuts are often like the boy who cried wolf.  They're designed to attract attention.  They are the means to an end.  Such was the case the last time the folks from Arizona State Parks announced plans to close some of our state parks in the Verde Valley.  It was March 1991 and both Fort Verde and Dead Horse State Parks were on the chopping block.  At least that was what we were told by Arizona State Parks.
It caused an uproar.  More than 100 folks showed up to a public meeting in Cottonwood to protest the closing of Dead Horse. There, we learned courtesy of former District 1 Rep. Don Aldridge, that State Parks was playing poker.  The strategy, Aldridge explained, was to create controversy in various communities throughout the state to stimulate political pressure to preserve, or even bolster, the budget of State Parks.  Aldridge characterized it as bureaucratic gamesmanship and outright scare tactics.
In the end, Aldridge was proved right when former Gov. Fife Symington devised a plan to earmark 50 percent of State Parks' acquisition of development fund to maintain the operation of the existing parks, Fort Verde and Dead Horse among them. State Parks simply was given permission to shift funds from one portion of its budget — the Kartchner Caverns slush fund — to another to stem the early '90s so-called budget crisis.
The boy who cried wolf was exposed.  His bluff was called.  This time, it's different.  This is not a case of crying wolf.  This budget crisis is the real thing.  [Note: To read the full article, click here.]