Source:  Arizona State Parks Press Release, June 1, 2017
Skip Varney was named as the new Deputy Director at Arizona State Parks & Trails, chosen to oversee Operations and Development. Skip had previously served as the Chief of Natural Resources & Special Projects, after being promoted from his role as the State OHV Coordinator.
Skip brings more than 30-years of experience to the role, working in a variety of Parks & Recreation
positions in Maine, including Assistant Parks & Recreation Director, Director of Parks & Community Education & Director of Engineering and Real Property for the Department of Agriculture, Conservation & Forestry at the Bureau of Parks & Lands.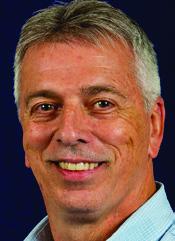 During his work as the State OHV Coordinator, Skip rebuilt federal & state agency relationships and worked extensively with OHV Ambassadors and volunteers to grow and strengthen the OHV community in Arizona. His work with their grants program provided more than $3 M annually for OHV trail development. He was also instrumental in the development of the Granite Mountain Hotshots Memorial State Park in Yarnell, getting the project under budget and ahead of schedule, in addition to his duties with OHV.
With Hotshots State Park, Skip worked with the community, Site Board and Sub-Committees to finalize plans for the parks construction and fostered partnerships with state agencies and vendors to help fast track its development. Collaborating with local companies, he coordinated donations and volunteers that provided work and materials for the parks construction. He worked hands-on creating the memorial area at the parks Fatality Site to prepare, protect and install the gabion baskets that encircle the area where the Hotshots made their last stand against the 2013 Yarnell Hill Fire. To date, the park has been visited by more than 11,000 people, who have praised State Parks on their exemplary work, creating a place to help heal emotionally and celebrate the lives of the Hotshots.
His expertise is a welcome addition to leadership for development and operations. His vision of blending development, construction services, and operations is opportune as we reinvest in current parks and create new parks.
Skip moved to Arizona with his wife Laura to be closer to their children and new grandson Owen, and to enjoy the warmer Arizona winters. When he's not at work, Skip loves to spend time with his family and fly his Mooney aircraft.
Please join us in welcoming Skip to his new role and wish him many years of success!