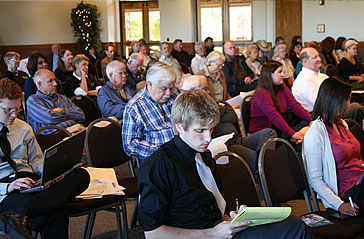 The Arizona State Parks Board voted to keep nine parks open and close the remaining thirteen State Parks in a phased series of closures starting February 22, 2010 due to six different State Parks funds being swept of $8.6 million.  In addition, four parks remain closed due to previous budget reductions.
The nine parks that will remain open are ones that generate the most revenue back into the parks operating revolving funds. The parks that will remain open include Buckskin Mountain State Park in Parker, Catalina State Park near Tucson, Cattail Cove State Park in Lake Havasu City, Dead Horse Ranch State Park in Cottonwood, Fool Hollow Lake Recreation Area in Show Low, Kartchner Caverns State Park in Benson, Lake Havasu State Park, Patagonia Lake State Park and Slide Rock State Park in Sedona.
The remaining parks will be closed in a phased sequence starting on February 22, 2010 and include Homolovi Ruins State Park in Winslow, Lyman Lake State Park in St. Johns, and Riordan Mansion State Historic Park in Flagstaff.
The next park closings will occur on March 29, 2010 and will include Fort Verde State Historic Park in Camp Verde, Roper Lake State Park in Safford, Tombstone Courthouse State Historic Park, Yuma Territorial Prison State Historic Park, and Tubac Presidio State Historic Park.
The final phased closings will occur on June 3, 2010 and will include Tonto Natural Bridge State Park near Payson, Alamo Lake State Park in Wenden, Lost Dutchman State Park in Apache Junction, Picacho Peak State Park, and Red Rock State Park in Sedona.
The remaining parks will continue their agreements with other entities or will be passively managed by an adjacent park.  These include Boyce Thompson Arboretum State Park in Superior, Sonoita Creek State Natural Area, Verde River Greenway State Natural Area, and Yuma Quartermaster Depot State Historic Park.
Four parks would remain closed.  These include Jerome State Historic Park, McFarland State Historic Park in Florence, Oracle State Park, and San Rafael State Natural Area.
For more information about the 27 State Parks, statewide hiking opportunities, off-highway vehicle trails, and other outdoor recreational and cultural opportunities in Arizona, call (602) 542-4174 (outside of the Phoenix metro area call toll-free 800-285-3703), visit AZStateParks.com, or follow on twitter.com/AZStateParks.